Friends of McNabs Island Event
---
Discover McNabs Island on a Guided Heritage or Nature Tour this Summer!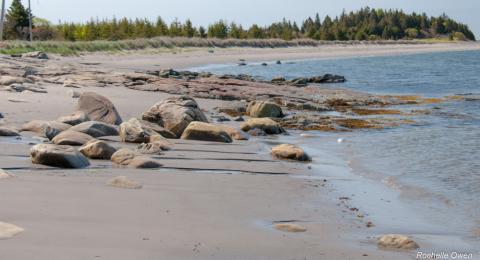 For Tickets: https://www.eventbrite.com/o/friends-of-mcnabs-island-society-10724104906
(June 23, 2021: Halifax, Nova Scotia) Discover McNabs Island this summer by joining the Friends of McNabs Island on guided Heritage and Nature tours of McNabs Island. Tours will be held every Sunday throughout July and August. July 5, 11, 18, 25, and August 8, 15 and 22.
Hike through Canadian history on a Heritage Tour! Learn why the Island was important to the Mi'kmaw First Nations, the early French settlers, and the British, who built several forts on the island to protect the Port of Halifax. Admire the panoramic view from Fort McNab National Historic Site. Discover where Bill Lynch, the Midway King, got his start in the fairground business. Learn the tragic story of the SS England, stricken with cholera and quarantined off McNabs Island in 1866. Visit the Victorian Gardens and the ruins of the A.J. Davis Soda Pop Factory.
On a Nature Tour, you'll watch Nova Scotia's provincial bird, the osprey fish in the island's coves; see where the endangered barn swallows live and learn about coastal plants and island animal habitats. Observe the ebb and flow of the tide in McNabs Pond, and maybe even go for a swim at sandy Maugers Beach.
Departure from Eastern Passage with A&M Sea Charters, 87 Government Wharf Rd, Fisherman's Cove. Cost: $25 (members) $15 (children/youth under 16), $35 (non-members). Babies and toddlers under 3 are free. Space is limited to 25 people per trip to ensure social distancing. Times: 10:00-3:30 and 11:00-4:30
For Tickets: https://www.eventbrite.com/o/friends-of-mcnabs-island-society-10724104906
For more information: https://mcnabsisland.ca/events  or info@mcnabsisland.ca .
https://www.facebook.com/McNabsIsland 
https://twitter.com/McNabsIsland
https://www.instagram.com/friendsofmcnabsisland/
The Friends of McNabs Island Society is a volunteer-driven registered charity dedicated to preserving and protecting McNabs and Lawlor Islands Provincial Park and Fort McNab National Historic Site.
Since 1990, the Friends of McNabs Island has improved the trails and park facilities, organized community beach cleanups and offered guided tours and outdoor recreation programming to island visitors – making McNabs Island a welcoming park for everyone.