Friends of McNabs Island Event
---
Fall Foliage Tours October 15, 2023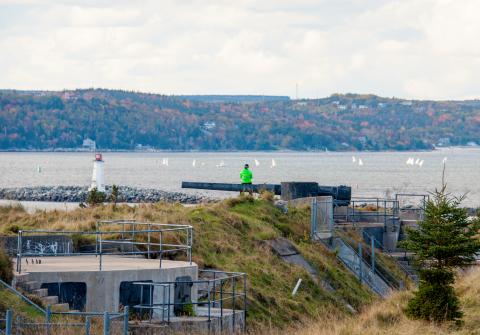 Join the Friends of McNabs Island Society for our annual Fall Foliage Tours of McNabs Island Provincial Park on Sunday, October 15, 2023. The rain date is the following Sunday, October 22nd.
See the island in its autumn splendour and participate in guided heritage, nature, and adventure or family tours. A Hangman's Beach tour based on the characters and setting from Thomas Raddall's book Hangman's Beach is also an option.
Participate in a special welcome to Mniku'j (McNabs Island) by representatives of the Mi'kmaw Native Friendship Centre and discover how important the island was for the Mi'kmaw First Nations.
Learn more about the role McNabs Island played during the world wars at Fort McNab National Historic site.
Hear the story of Bill Lynch, the "midway king" and how he got his start in the fairground business.
Learn the tragic story of the SS England that was quarantined off McNabs in 1866.
Discover the island's coastal environment, plants and wildlife.
Learn from the Friends of McNabs Island horticulturalists how we are restoring the Victorian Gardens.
Visit the New Outdoor Education Centre that has been created from the abandoned Teahouse.
We offer a variety of tours at the McNabs Island Fall Foliage Tours.
There are two Heritage tours - one to Fort Ives and the North End of McNabs Island and the other to Fort McNab National Historic Site and the South End of the island;
a Nature Tour;
an Adventure Tour to Thrumcap suitable for hikers over 16 years of age,
a Family Tour for parents/guardians with children 12 years and under,
and the Hangman's Beach Tour based on the characters and setting from Thomas Raddall's novel, Hangman's Beach.
Wear comfortable shoes or hiking boots and dress for the weather. Bring a lunch and drinking water.
Travel to McNabs Island with Ambassatours (Murphy's on the Water) from Cable Wharf, 1751 Lower Water Street on the Halifax Waterfront departing at 9:30 AM Sunday, October 15, 2023. Departure from McNabs Island is at 4:00 with the return to Halifax by 5:00 PM.
Everyone must get their tickets in advance via Eventbrite!
https://www.eventbrite.com/e/mcnabs-island-fall-foliage-tours-october-15...
Ticket costs:
$40 (Adults who are not members of Friends of McNabs Island),
$20 (children/youth under 16), and
$30 (Friends of McNabs Island members).
Children 4 years or younger are FREE but need a ticket.
The Rain Date is Sunday October 22, 2023.
For more information on this event, contact: info@mcnabsisland.ca or http://mcnabsisland.ca/contact.