McNabs Island Teahouse Transformed
by Catherine McCarthy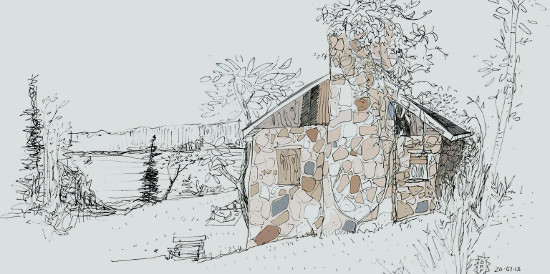 This sketch of the McNabs Island Teahouse by artist, Emma FitzGerald, is now available as note cards to help raise funds for the Teahouse transformation project. Order form: as DOC or as PDF
Finally, we have raised enough money to begin to transform the abandoned Island Teahouse into an Island Centre, which will become a focal point for outdoor education and community activities on the island.
The location and character of the building has always been the appeal. Planted in the heart of the Hugonin-Perrin Victorian Gardens, this stone building overlooks Halifax Harbour and is not too far from Garrison Pier. John Jenkins, owner of the McNabs Island Ferry Company, built the Teahouse in the 1980s. He salvaged stone from some of the nearby foundations to construct the Teahouse that operated as a café until 1994. The stone structure, which resembles a Scottish crofter's cottage, has been empty for the past 25 years!
Friends of McNabs Island volunteers are working to give this old building new life. With the donated professional help of Harvey Architecture and BMR Structural Engineering, we have new plans for the building.
Royce Walker and Brian Phelan have done an enormous amount of volunteer work on this project –working with suppliers, with the government to get approval, and coordinating our volunteers. Gordon Warnica is volunteering his engineering services as our project manager.
Scotia Metals gave us a discount on the metal roof and Leverman Roofing installed it. Metro Windows and Doors discounted the price for new windows and doors. We have installed skylights on the roof to let in natural light and are converting the second storey loft into a mezzanine for storage. With the help of NSCC, we will be installing solar panels that will power some basic equipment like laptops, cell phones and give us lights during the dark winters.
Once the building is renovated, we will install interpretive panels, and furnishings for group activities. The building will be available for Friends of McNabs Island outdoor education programming and activities. Others, such as youth groups, schools and community groups will have access to the building too.
We would like to thank everyone who has helped with this project so far. Thanks for the financial support from long-time members Doris Schrader and Mary Ellen Donovan, the Sage Environmental Fund, Oceans North, Credit Union Atlantic, Nova Scotia Communities, Culture and Heritage, Councillor Bill Karsten and all our members and supporters.
It's wonderful to get this project off the ground. If you can help with the renovations or assist financially, please contact us.
Order form for note cards: as DOC or as PDF
Thank you to John van Gurp for his volunteering efforts and this video!