MEDIA RELEASE - Friends of McNabs Island Society - Annual Cleanup hauls in some expensive dental work, and too many lobster traps!
On Sunday June 9th, two hundred volunteers travelled to the McNabs Island in Halifax Harbour for our 28th annual Beach Cleanup
Volunteers wrapped up Oceans Week and Environment Week by scouring the island for ocean debris – collecting approximately 350 bags of garbage and recyclables and over 50 lobster traps.
In total, volunteers have collected 13,900 bags of garbage and recyclables from the beaches of this provincial park and national historic site since 1991. The McNabs and Lawlor Islands Provincial Park cleanup is the longest-running and largest cleanup in the Maritimes!
Marine debris including rope, motor oil containers, hundreds of lobster bands and tags, and over 50 lobster traps were hauled off the beaches. Interesting items discovered this year included a gold post for someone's expensive dental work, parts for a coffee percolator dating to the 1940s, and the bottom of a bottle from the 1800s, plus a 30 year-old sun catcher.
The bulk of the items collected were plastics - plastic sheeting and containers, and pieces of Styrofoam as large as a bed frame. Plastic tampon applicators and cotton swabs from Halifax's sewage system and Tim Horton's coffee cups, which have a plastic liner, continue to litter the beaches.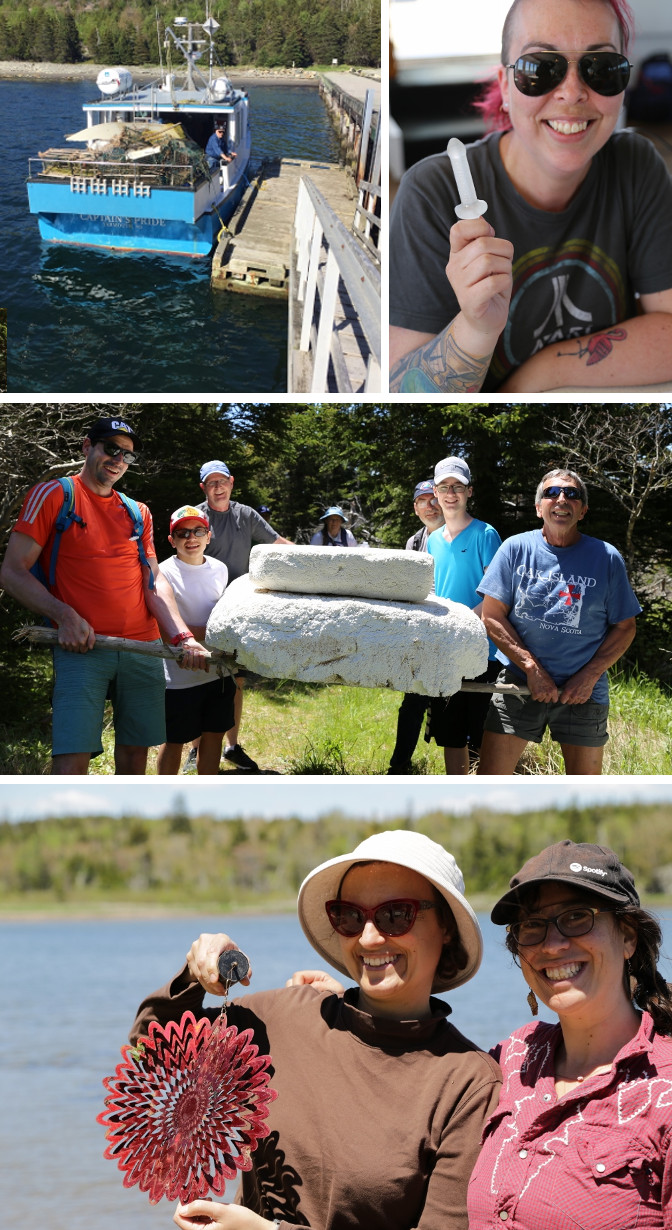 (Photography courtesy of Jennifer Barnable 2019)
Thanks to students from Ecole Secondaire du Sommet, staff from McInnes Cooper, Halifax Water and RBC, along with many families and groups of friends, who volunteered to pick up garbage that was littering the island beaches.
Thanks to McInnes Cooper, Develop Nova Scotia, Halifax Water and Oceans North for supporting the volunteers; HRM and Adopt-a-Highway for providing garbage bags; Source Atlantic for providing gloves; Murphy's Cable Wharf and A & M Sea Charters for transporting volunteers; Nova Scotia Department of Lands and Forestry staff for getting the garbage to the main wharf and A&M Sea
Charters and Develop Nova Scotia for transporting the garbage back to Eastern Passage where it was picked up by HRM garbage trucks for final disposal and/or recycling.
The Friends of McNabs Island Society is a volunteer-driven registered charity dedicated to preserving and protecting McNabs and Lawlor Islands Provincial Park and Fort McNab National Historic Site. Since 1990, the Friends of McNabs have improved the trails and park facilities, organized community beach cleanups and offered guided tours to island visitors – making McNabs Island a welcoming park
for everyone.